Match Page - Fixed Scoreboard
Overview
Match Centre - Preview - Current Standing A v B
Match Centre - Preview - H2H
Match Centre - Preview - Form Guide
Match Centre - Preview - Last Three Meetings
Season so far
Match Centre - Preview - Season So Far A v B
Tournament record
Match Centre - Preview - Tournament Record (Team A)
Match Centre - Preview - Tournament Record (Team B)
Zebre and Enisei-STM set for first meeting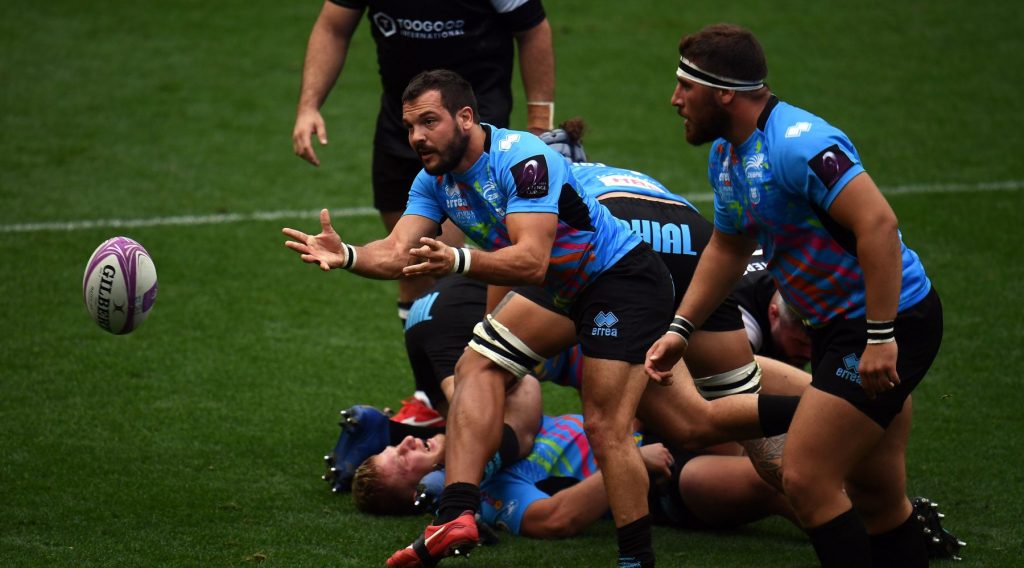 Enisei-STM and Zebre Rugby Club will face each other for the first time on Saturday at the Yug Stadium in Sochi, with action getting underway at 12:00 GMT.
This will be the first clash between Enisei-STM and Zebre Rugby Club, and Enisei's first match against Italian opposition in their three seasons in the Challenge Cup.
Enisei's four tournament wins have all come at home, however, they've lost each of the last five games they've hosted.
Zebre have won just two of their previous 10 away games in the Challenge Cup, with their last away victory coming against Worcester in Round 5, 2015/16.
Enisei have conceded 17 turnovers in their two games this season,fewer than any other side.
Zebre's Tommaso Castello has made the most carries of any player this season (33) while Enisei's
Mikheil Gachechiladze has made the most tackles (41).
La terza linea delle Zebre #Rugby Mbandà ha parlato @onrugby_it in vista di #ENIvZEB di sabato 8 Dicembre in Russia 🇷🇺

🎙️"il nostro obiettivo sarà quella di mettere più pressione possibile e far valere il nostro gioco"

Leggi l'intervista completa ⬇️https://t.co/QGFPVq7TX0 pic.twitter.com/GRpSDhR6pb

— Zebre Rugby (@ZebreRugby) December 5, 2018
Match Centre - Preview - Lineups
Zebre pick up bonus point win in Russia
Zebre notched their second win in Pool 4 of the European Rugby Challenge Cup but were made to fight hard to secure the points.
Their Russian opponents were a match for the Italian side in the first-half which ended with the scores locked at 14-14.
But the visitors slowly took charge after the interval with fly-half Carlo Canna taking his tally to four penalties and a conversion.
#ENIvZEB 77° [14-31] Canna fa 5/5 dalla piazzola e allunga per le Zebre #Rugby. I russi @Enisei_STM chiuderanno la gara in 14 per un cartellino giallo ricevuto per un fallo sulla metà campo. pic.twitter.com/soZXNQ4fmM

— Zebre Rugby (@ZebreRugby) December 8, 2018
Scrum-half Guglielmo Palazzani added his second try of the game and four minutes from time South African forward replacement Johan Meyer added Zebra's fourth try to round off the scoring.
Palazzani had opened the scoring with his first try after just three minutes and Canna also crossed before the break.
Enisei-STM battled back with tries from full-back Nikita Churashov and flanker Mikheil Gachechiladze both converted by fly-half Yuri Kushnarev to level the scores before the break.
И тут же ответная попытка «Енисея-СТМ»! Отработали прекрасно назначаемую схватку, продавили метров 10. Далее Щербань перевёл мяч на край и попытку совершил Чурашов! Реализация @IuriiKushnarev – 7:7.

— Енисей-СТМ (@Enisei_STM) December 8, 2018
The sides clash again in Parma next Saturday with Enisei-STM looking to record their first win in Pool 4.
Attack
Match Report - Team Stats (Attack)
Defence
Match Report - Team Stats (Defence)
Kicking
Match Report - Team Stats (Kicking)
Breakdown
Match Report - Team Stats (Breakdown)
Set Plays
Match Report - Team Stats (Set Piece)
Discipline
Match Report - Team Stats (Discipline)
Match Page - Player Performance