Challenge is set for Dax and Auch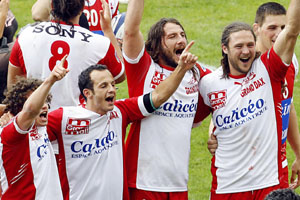 French Pro D2 teams Dax and Auch have secured promotion to the Top 14 and European Challenge Cup competitions for the 2007/08 season.
Auch topped the Pro D2 league and received automatic promotion to the top flight French league the Top 14.

The semi-finals of the play-offs for the second promotion place took place on the weekend of the 20 May. La Rochelle defeated Toulon 21-7 and Dax defeated Beziers 18-6.
In the final of the play-offs Dax defeated La Rochelle 22-16 on Sunday, 27 May at the Chaban Delmas stadium in Bordeaux and therby claimed the second promotion place for the Top 14.