No taming the Tigers – Barnes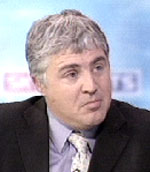 It is too early to congratulate Leicester on their English Premiership title; too early because the quality of their game which broke Gloucester was of such a level that only a third trophy lift will count as success.
The power and organisation of the forward effort, allied with the skill at the breakdown and the sheer percussion of their back play means that anything less than the Heineken Cup on top of the EDF trophy and the Guinness Premiership will not suffice.

It is testimony to the excellence of this team forged in the failure of the last few years that nothing less than the treble will count as success. Standing in their way are Wasps, big match experts but out of form and short of match practice.
It would be a major surprise if they were to fold as dramatically as Gloucester did but an even greater shock if they were to win.
There has been much talk in football about the detrimental effects of continual pressure situations, it is used to explain the failures of both Manchester United and Chelsea in Europe but the Tigers have never looked like buckling in what must rate one of the toughest run ins in the history of an English club.
First there were the champions of Wales, Ireland and Scotland, the Ospreys in a Twickenham final, then the semi final Heineken clash with the team of the tournament – until that day – the Llanelli Scarlets.
A second string side lost in Bristol but the big guns re emerged to blast their way into the play offs semis with home advantage guaranteed and Wasps knocked out Bristol was a low key semi final success, but physically tough nonetheless, and then Gloucester in a one sided final, the same Gloucester side which had applied scored 85 points against Bristol and Saracens, the third and fourth placed English teams. And now just Wasps stand between them and one of the greatest domestic seasons.
Lawrence Dallaglio is one of the strongest willed of rugby players but having seen the raw power of the Tigers it is doubtful whether even he can convince his team that they can do what King Canute could not and turn back an unstoppable tide.
Bath and Clemont Auvergne meet in the final of what has been an excellent quality Challenge Cup. Bath will be hoping that rugby's politicians have reached a resolve by then and are playing for not just a trophy but a route into the Heineken Cup.
I can only echo those sentiments but in this final week of the season, folks, forgive me if I stick on the action on the field and Wasps attempt to stem the Tiger tide