Boost for Bath ahead of final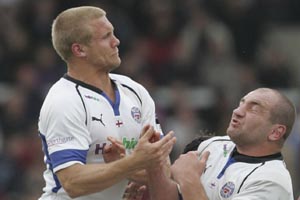 Bath head coach Steve Meehan felt his side had given themselves a major lift ahead of the European Challenge Cup final by winning away.
 Bath had not won on the road in the Guinness Premiership all season but changed that with a 20-12 victory in their final game at Newcastle.

Meehan's team outscored the Falcons by three tries to two to put them in good heart for their encounter with Clermont Auvergne at the Twickenham Stoop next month.

"It's nice for the players to get the monkey off their backs," Meehan told www.guinnesspremiership.com.

"It's something we can build on and we can take it into the European Challenge Cup final.
"Our defence today was superb but then we let Newcastle in for a try which often happens when you have defended well for a long spell.
"We have a lot of tired players and they need a rest. It's three weeks to the final and we can take a break but we have arranged a warm-up game against Newbury to prepare."
Bath's blanket defence was the key to their win – and the fact they took their chances when they came along.
Newcastle did not have the ball for the opening three minutes – and they paid for it when John Rudd was penalised for a high tackle and Bath put it in the corner for Peter Short to be driven over with some ease.
Olly Barkley missed the conversion and a sixth-minute penalty but Newcastle still had not seen any ball.
Toby Flood and Mathew Tait tried to change that as they carved their way through, only for Matt Burke to spill the ball on the 22.
It proved the start of a good Newcastle spell with Tait surging through and then Flood missed a penalty in the 14th minute.
Newcastle should have scored in 24th minute when the ball was moved wide and Andy Long shovelled the pass to Geoff Parling but it went straight through the back row five metres from the line and into touch.
But Newcastle were through like a shot on the lineout and forced a knock-on and launched wave after wave of attacks.
It was all Newcastle but then they handed seven points to Bath when Burke expertly took a high kick and inexplicably decided to pass and David Bory accepted a gift to score. Barkley converted to make it 12-0 at half-time.
Andy Buist came on at the break for Newcastle and made an immediate impact when he was driven over from a lineout for a try converted by Flood.
Bath hit back quickly when Shaun Berne dived over in the corner with some question marks against the Falcons defence.
Once again it was all Newcastle and a searing break from Flood and Tait almost led to a try before Ollie Phillips cut through and Tait finished it off.
It seemed Newcastle would come through to take the points but they were over-elaborate and when Berne dropped a goal two minutes from time, Bath were out of sight.