What A Weekend! – Barnes
Condividere questa pagina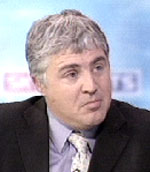 The Heineken Cup has produced more dramatic matches but possibly never a weekend of such rich attacking rugby. The modern adage that defences win games was made to look stupid as creative rugby dominated. The points flowed from Leicester, Friday to Leinster, Sunday as accurate ambition combined with individual brilliance to ignite the tournament.

Leicester went to Clermont Auvergne on a positive note and earned themselves a quarter final tie with Bath at home. It is a game they should win although the rivalry between clubs could turn logic on its head. Tom Varndell earned the headlines with four tries but Geordan Murphy produced the outstanding performance in attack, wearing 11 but devastating picking lines from full back.
It was to be the start of a superb weekend for Ireland. All three Heineken provinces won (Connacht's defeat in Catania was the one exception and Italy's European highlight of the season) with Munster and Leinster delivering memorable efforts

Munster crushed Sale with a superb first-half in which the traditional power of the forward play was mixed with some accurate back play. Barry Murphy adds a lovely new flavour to their game. At Bath it was another Irish centre, a more famous one, that spearheaded a back line performance that should have Toulouse thinking about defence as well as attack come the quarter final.
Brian O'Driscoll played an untouchable 80 minutes of rugby with international colleagues, Shane Horgan, Gordon D'Arcy, Denis Hickie and Keith Gleason all outstanding. Suddenly things look good for Eddie O'Sullivan. The power of Munster up front, the class of Leinster behind and the youthful enthusiasm of a promising Ulster side to add future strength gives Ireland an exciting look. Let us hope the bravura of Irish rugby's last round of pool rugby forces a more positive approach. There is too much class to hide.
France also reminded us of its attacking force. Toulouse slumbered in defence but were again regal at times going forward. Europe is fortunate to have both O'Driscoll and Yannick Jauzion taking centre stage in the same era. Biarritz too were potent and are simmering away as potential champions this year.
I hope England's club coaches, so often happy to take the easier sterile option on how to play the game, have been taught a lesson by some of the recent action. Sale for one has been slipping into a more conservative mode. Saturday should have rocked them awake.
If you have the talent, use it. Defences do not look so good against attacks that attempt more than just ball retention. Hence the strong Bath defence was made to appear useless by a Celtic League team that refused to bow before cautious power. Under Brian Ashton, Bath will learn their painful lesson, it was one for all of England (and Fabien Galthié, whose approach to the game stymied Stade Francais's flair and helped bundle them out early.)
It has not been an aesthetically attractive season on the club circuit so far. Maybe the glimmer of light provided last weekend could open the door to a world where potential has the possibility of being fulfilled

Condividere questa pagina