The pluck of the Irish – Barnes
Condividere questa pagina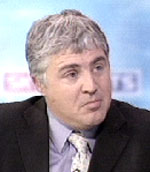 Ireland will be represented in the final of the Heineken Cup. That much we know after the weekend.
We also know that Biarritz will be strong favourites to beat Bath in San Sebastian. Watching the innate caution of the French champions, I would not be as sure as the bookmakers will undoubtedly be. If you are a Bath fan, get on that plane to Spain. Not only is San Sebastian a beautiful place, it is somewhere Bath could come away from with a win.

Had Sale played with the mental courage of Leinster in Toulouse the previous day, it could have been a guaranteed Ireland versus England final. If that had been the case, Ireland would have been strong favourites to lift the title. As it is, Bath may scrap another away win but to then beat Leinster or Munster would be an achievement perhaps beyond this improving but still limited team. 
Biarritz has the class on the day but there is little gathering evidence of them turning up in Cardiff, should they prevail against Bath. Munster, in contrast, will leave nothing behind and Leinster is liberating the sport from its current obsession with grinding attrition. They have a pack that proved itself capable of competing with the best against Toulouse and a back line of sheer brilliance.
If they win sufficient ball, Leinster should win an epic semi-final but with all these players so aware of each others strengths and weaknesses and the nature of the occasion, my money will be firmly locked away.
Brian O'Driscoll faces Paul O'Connell, such is the athleticism of power of these two rugby titans, the confrontation will often be direct, at the ruck or in open play. Who will the neutral support? Leinster's style makes them a fantastic team to watch but Munster's history and passion has earned them a soft spot in so many hearts. Let the days roll on.
Condividere questa pagina