Lievremont disappointed in defeat
Condividere questa pagina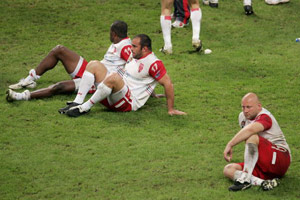 Biarritz captain Thomas Lievremont admits his side left it too late after being edged out in the Heineken Cup final against Munster…
The French champions showed their strength of character to roar back to within a point ten minutes from time after conceding two tries in the first half.

Dimitri Yachvili kicked three second-half penalties as Biarritz roared back but it proved too little too late to win the Heineken Cup.
Lievremont said: "We certainly felt Munster were getting more and more tired as the game went on. We thought we might be able to force them into committing mistakes and then we could take advantage. But to be looking to win like that was too late.
"To be honest we lost the game because of early defensive mistakes that allowed them to score tries early on.
"We can be proud of reaching the final but we are very disappointed to have made those mistakes that cost us the win."
Condividere questa pagina