Heineken Cup final ticket sales top 25,000
Condividere questa pagina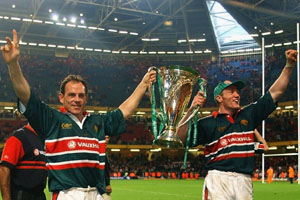 ERC and the Millennium Stadium have confirmed that more than 25,000 tickets have already been sold for the Cardiff '06 Heineken Cup final on Saturday, 20 May.
With 150,000 fans attending what are set to be four sell-out Heineken Cup quarter-finals in the first weekend in April, ticket sales are already soaring for the final – still 60 days away.

The 11th Heineken Cup tournament has already attracted 660,004 fans for the Pool stages with new records set in Rounds 1, 2, 4 and 5.
Demand for the four quarter-finals has also been huge with fans scrambling to snap up the few remaining tickets returned by the travelling clubs and capacity crowds are expected at Lansdowne Road, Dublin; Le Stadium, Toulouse; The Walkers Stadium, Leicester and Estadio Anoeta, San Sebastian.
Similar demand is expected for the semi-finals on the weekend of 22 / 23 April when the last four teams are known on Sunday, 2 April.
With eight teams still in the hunt for places in the Heineken Cup final, ERC and the Millennium Stadium are delighted that advance sales have already gone through the 25,000 ticket barrier.
"The 74,600 fans who were at the Millennium Stadium for the thrilling final between double champions Leicester Tigers and Munster in 2002 created a tournament record and four years on and we are on course for another bumper crowd," said ERC Chief Executive, Derek McGrath.
"With the allocations to the two finalists still to come out of the remaining tickets we are delighted with the sales so far as the Heineken Cup now goes under the European rugby spotlight with four fascinating quarter-finals coming up on the weekend of 1 and 2 April. We are working with our final partners in Wales to ensure the Cardiff '06 final will be another memorable European festival of rugby on and off the field."
Paul Sergeant, Millennium Stadium Chief Executive, said: " It's great at this early stage to have such an interest in the final and an indicator that we should expect another fantastic European rugby atmosphere. We'd just like to encourage people to buy early to avoid any disappointment."
Leicester Tigers and Bath Rugby get the quarter-final weekend underway on Saturday 1 April with their all-England clash with Toulouse meeting Leinster and Munster taking on Perpignan also on Saturday. The Sunday contest sees Biarrtiz Olympique Pays Basque tackle Sale Sharks in San Sebastian.
Tickets for the Cardiff '06 Heineken Cup final are priced at £25, £35, and £45 and are available from www.ticketmaster.co.uk. Family tickets are available at £99.
Condividere questa pagina