Flood hails Falcons' win
Condividere questa pagina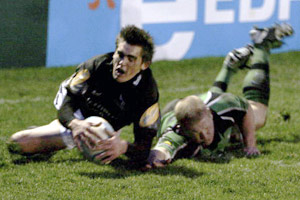 Newcastle Falcons are the first team in the European Challenge Cup semi-finals after they rose to the challenge of Connacht at Kingston Park…
Newcastle Falcons fly half Toby Flood refused to take all the credit for sending his side in to the semi-finals of the European Challenge Cup on Friday night, despite scoring 18 of his team's points in a man-of-the-match display.
The England Under-21s star scored a try, two conversions and three penalties in the 23-13 victory, stating afterwards: "We knew we had to bounce back from last week's disgraceful performance, and we had a few words from Rob Andrew ringing in our ear when we went out on to the pitch, but the team put in a big effort and got the result.

"There was a feeling of embarrassment last weekend because we totally let the supporters down, but hopefully it's behind us now and we can push on in this competition and in the Premiership.
"We worked hard in training this week to get Sunday's terrible performance out of our system, and we knew we had to put in a good one today.

"Connacht are a good side, people underestimate them, and we saw tonight just how committed they are and how hard their defence is to break down."
Having raced 60 metres to dot down the ball for his own try, Flood said: "I just found myself with the ball in my hands somehow, whacked it downfield and started running.
"Luckily it was just forwards chasing me because I was absolutely knackered, and couldn't wait to flop down on the ball to get a rest."
The former Morpeth, Alnwick and Northumberland player kicked five from five, three of them from the touchline, on the night, saying afterwards: "I've never really kicked goals for the Falcons in the games I've played, although I did for England Under-21s, and fortunately it went well.
"I was really nervous on the first couple, but when they went over I settled down and just got on with it. Luckily we have a few good teachers at the club in that department."
Looking ahead to a semi-final against either London Irish or Bayonne, Flood is not fussy, stating: "Notoriously the French don't travel well, so you could probably argue that would be the best draw, but we have a score to settle with London Irish after their win here in November, and to get a chance to do that would be fantastic too.
"Whoever we get we'll be looking forward to it, and with the home fans behind us I'm sure we can do our best and make it to the final.
"Heineken Cup rugby is the aim, and this game is now a massive one for the club.
"Getting the Premiership form addressed is now the most pressing thing because we've come off the rails a bit in that competition, but if we can play with the same spirit we did tonight then we should have enough to guarantee that safety."
Condividere questa pagina