Barnes: Take a bow 16th man
Condividere questa pagina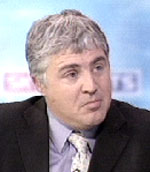 There are great games and great occasions…
There are great games and great occasions. Saturday afternoon's Heineken Cup final came up some way short of greatness as a match but the sheer emotion of the occasion made it one of the greatest rugby days I can remember, including Wales's recent Grand Slam, England's mighty efforts to win the World Cup and the ineffable majesty of France's stunning comeback against the All Blacks in the World Cup semi final 1999.

I hate cliches but the Munster supporters justified a few of the most well worn of them all. They were Munster's 16th man and they just about raised the roof. It was a privilege to share the occasion. This was one for rugby union. For Biarritz it was agony. They played with great gusto but where was the precision behind the scrum to win the game when they had their chances, it was left behind as it was against Sale and Bath in the previous knock out games.
They deserved defeat because they never came near maximising their talents this European season. Munster struggled Saturday but certainly displayed ambition in the first half and at en route to the final.
The final itself will fade with time but not the atmosphere, not the bonhomie between both sets of fans. Fantastic. Well done to you all. But, some curmudgeons say, `where are those fans at Musgrave Park when it's the Borders in the Celtic League? Maybe the problem is not with the fans but a tournament that is palpably discredited by the limitations imposed upon it by the national unions that see provincial rugby not as an entity in its own right but as a feeding ground for international teams. Whoever wins it, well done but if it is Ulster can we really pretend the absence of so many Irish internationals for so long from Leinster and Munster's ranks had no impact.
To those who see Munster's triumph as proof that provincial rugby works, think twice. A, the clubs that make up Munster are in no way comparable with the cash rich English clubs with their strong population bases. Munster is their equivalent. English clubs are regions – and B, Do you want the Guinness Premiership undermined in the manner of the Celtic League which produces some superb rugby but too many weakened fixtures. Even taking the clash with internationals into account, the English league, irrelevant of standards is the better one because of the decentralised nature of it.
Sale and Leicester fight for the title of England's champions Saturday. Two strong packs, two magnificent back rows and individual backs like Jason Robinson bouncing back to form, while the Tiger back line is purring ominously. Leicester are the favourites. I can see why they should be. Having written that I can also see a Sale win. It will be ferocious at the contact, other than that it is hard to make any predictions – other than it will be a bloody sight better than the Sale v Leicester final in which Dewi played a few years back.
Good lord, it was almost as bad as a few finals I played in and though time flatters, I know they were pretty damned ugly for the neutral. But hell, this is a final, neutrals be damned, Sale and Leicester supporters do not care how they win as long as they win.
It has not been a classic year for Northern Hemisphere rugby but I have the feeling these two might deliver a rousing finale to what has been a memorable last month. Good luck to both teams, may the ones with the biggest heart claim the prize. That is how finals are normally settled unless one side has a marked superiority. That is not the case Saturday.
Enjoy it.

Condividere questa pagina