Leinster's luck of the draw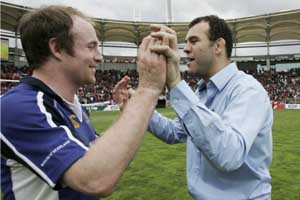 Following the Heineken Cup draw Leinster Chief Executive Mick Dawson gave his reaction to www.leinsterrugby.ie.
Speaking in the aftermath of the Dawson commented: "Leinster Rugby are excited about the draw for next year's Heineken Cup and we look forward to locking horns with our three opponents from Scotland, France and England in what is the premier Club competition in world rugby.

"We know the Edinburgh Gunners well from our Celtic League encounters in recent years and I know that if recent games are anything to go by then we can look forward to another exciting encounter.
"Agen are a typically strong French side who finished ahead of Bourgoin in the French league table this year and we know from recent experience how hard a place France is to play.
"Leinster return to Kingsholm to face Gloucester in what will be the first time in the Heineken Cup. We faced them in a pre-season friendly there in 2003 and they are a strong West Country outfit with a proud following.
"The Leinster support has been like a sixteenth man for us in recent years and last year we twice broke our attendance records in Bath and then in the quarter final in Toulouse. I know that our loyal supporters will also be looking forward to this year's travels.
"We are under no illusion as to how competitive Pool 2 will be next year, but we are all looking forward to what is sure to be an exciting campaign."